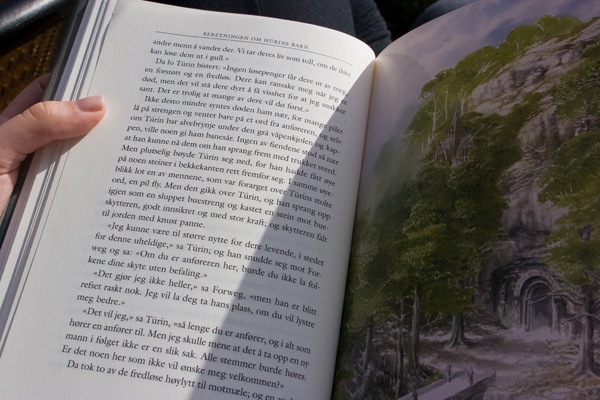 Húrins barn, som den heter på norsk, er en tragisk historie som dreier seg særlig om Túrin, sønn av Húrin (derav tittelen), og alt det forferdelige som skjer med ham. Det er en av de fineste bøkene jeg har lest (som i fin med nydelige illustrasjoner), og den er også godt skrevet, noe som ikke var annet enn ventet.  Den er selvsagt ingen ny Ringenes Herre eller Hobbiten. Nå hadde jeg jo ikke ventet det heller, siden det er en historie Tolkien selv ikke ble ferdig med. Den er heller ikke like omfattende som de større verkene til Tolkien, men mer enn tilleggshistorie.
Jeg synes den var ganske lettlest til Tolkien å være, selv om du tydelig merker hvem som har skrevet den. Det kan være litt vanskelig å huske hvem som er hvem, særlig hvis du ikke har noen kjennskap til universet fra før av, men bak i boka er det et navneregister. Veldig kjekt!
Jeg synes i alle fall den var verdt å lese, særlig på grunn av illustrasjonene! Historien er kanskje ikke den helt store, men skildringene og miljøet er så bra som de kan bli!
You can clearly tell that this book was written by Tolkien, as the descriptions and the setting are clearly his inventions, but the story itself doesn't keep the same standard as his other works (those I have read). It's a tragic story, almost shockingly so. Well, it was far from bad, and it's also a very visually appealing book (fantastic illustrations by Alan Lee), so if you like tragic stories, you should read it.