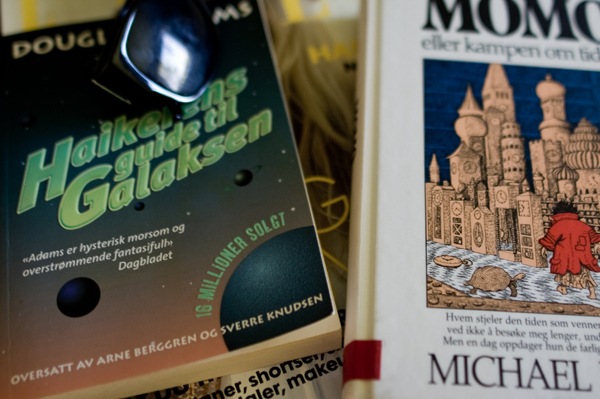 Å ligge ute på et teppe på plenen og lese er nesten en selvfølge når det er så godt vær som nå, og den siste uka er det dette jeg har lest: Momo, eller kampen om tiden av Michael Ende og Haikerens guide til galaksen av Douglas Adams.
Momo handler om den lille jenta Momo som har mange venner som kommer for å besøke henne helt til de en dag blir så opptatte med å være travle at de ikke lenger har tid til å snakke med henne. Det viser seg at noen tidstyver har vært på ferde, og det blir Momo sin oppgave å redde vennene sine – og resten av byen. Det er en veldig søt historie, selv om den er ganske hjerteskjærende enkelte steder, og selv om den er temmelig enkel så tar den opp et tema som angår oss alle!
Haikerens guide til galaksen er en helt annen type historie. Denne boka handler om Arthur Dent, en ganske typisk engelskmann, som blir tatt med ut i verdensrommet. Boka er rett og slett rå – så hysterisk morsom at det nesten ikke skulle vært lov! Den er helt klart en av favorittbøkene mine, og jeg ler like godt hver gang jeg leser den. Det finnes fire bøker til i serien (som skal være verdens lengste triologi), men jeg liker ikke de andre like godt som denne.
I recommend both The hitchhiker's guide to the galaxy (Douglas Adams) and Momo (Michael Ende). Momo is such a nice story, and The hitchhiker's… is hysterical! I don't think I know a book funnier than this one!