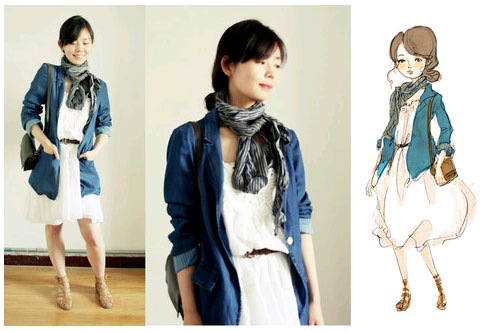 Jeg ble litt småforelska da jeg fant dette på lookbook. Nancy Zhang har illustrert nesten alle antrekkene sine, og hun er, som dere ser, veldig flink! Det er verdt det å ta en titt!
Vi hadde tentamen igjen i dag – denne gangen var det matte, og det gikk relativt bra. Det beste er at jeg fikk komme hjem tidlig, så nå slapper jeg av. Det er bare den yngste broren min og jeg som er hjemme nå, siden lillesøstera mi er på sykehuset med blindtarmbetennelse. Hun kommer heldigvis hjem i morgen. Selv om hun kan være litt slitsom til tider, så blir det godt å få henne tilbake!
Nå skal jeg slappe av foran tv'en, forhåpentligvis med en milkshake hvis jeg kan finne noe is i fryseren. Namnam!
I found this girl on lookbook today, and instantly fell in love with her adorable drawings. She've illustrated almost all of her outfits – you can find her lookbook account here!
My sister is currently at the hospital. I think she's fine now, but when I talked to her on the phone yesterday, she didn't sound all well. I think she'll come home tomorrow, and I have to admit it's going to be nice having her here, even though she can be quite a brat sometimes.
Now I'll be relaxing in front of the tv. I hope we have some ice cream so that I can make a milkshake. Yummy!