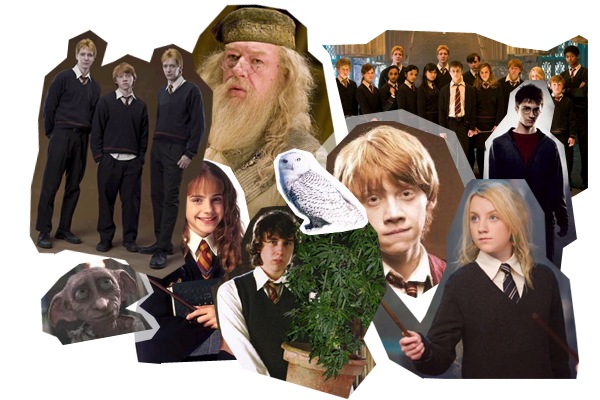 Ettersom det kan hende noen av dere ikke har lest alle Potter-bøkene enda (og har planer om å gjøre det), har jeg gjort det sånn at dere må klikke på show under her for å lese sitatene.
[spoiler]
"Dumbledore's man through and through, aren't you, Potter?"
"Yeah, I am," said Harry. "Glad we straightened that out."  – Half-blood Prince
Dette er trolig det sitatet jeg liker aller, aller best i hele serien. Harry får besøk av magiministeren som vil bruke han som maskot for magidepartementet, men Harry nekter. Dumbledore (Humlesnurr) har hele tiden hindret magiministeren i å få tak i Harry, og da Harry svarer det samme som Dumbledore, spør magiministeren han om han virkelig er Dumbledores mann tvers igjennom.
"Make way for the heir of Slytherin, seriously evil wizard coming through…"  – Chamber of Secrets
De mange morsomme kommentarene til Fred og George Weasley er noen av høydepunktene i serien, og dette er ett av dem. Store deler av Hogwarts mener Harry kontrollerer et monster, og Fred og George vet å utnytte situasjonen til å gjøre noen morsomheter!
The elf's eyes found him, and his lips trembled with the effort to form words."
"Harry … Potter …"  – The Deathly Hallows
… og dette er muligens det tristeste øyeblikket. Dobby (Noldus) har bare vært med i en av filmene hittil (meg jeg tror det er bekreftet at han skal være med i den aller siste filmen), men i bøkene blir vi veldig godt kjent med han. Derfor er det utrolig trist når han dør!
"Yes sir."
"There's no need to call me "sir", Professor."  – Half-blood Prince
Harry svarer Snape (Slur) i en time. Det ender selvsagt med gjensitting for Harrys del, men jeg lo godt da jeg leste dette første gang. Det er så typisk Harry og Snape.
Luna had decorated her bedroom ceiling with five beautifully painted faces: Harry, Ron, Hermione, Ginny and Neville. They were not moving as the portraits at Hogwarts moved, but there was a certain magic about them all the same: Harry thought they breathed. What appeared to be fine golden chains wove around the pictures, linking them together, but after examining them for a minute or so, Harry realised that the chains were actually one word, repeated a thousand times in golden ink: friends … friends … friends …   – Deathly Hallows
Jeg tror ikke det går an å beskrive denne scenen som noe annet enn rørende.
Harry Potter har utrolig mange slike gyldne øyenblikk, så det var vanskelig å velge! Jeg kan gjerne tenke meg å høre hva deres favorittsitater fra Harry Potter er! Er det en spesiell replikk eller en scene som sitter litt bedre enn andre?
[/spoiler]