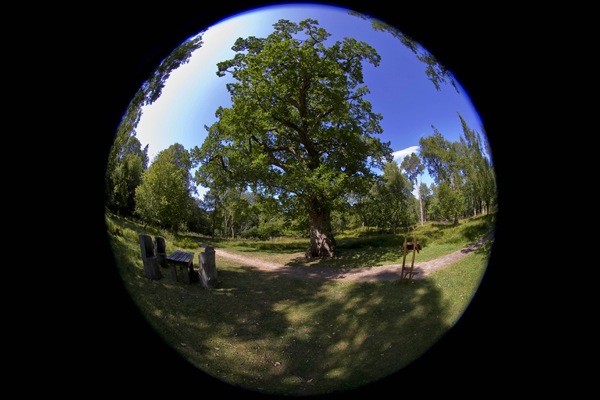 "A little way off at the foot of a tree sat a merry party, a squirrel and his wife with their children and two satyrs and a dwarf and an old dog-fox, all on stools round a table."

– The Lion, the Witch and the Wardrobe, C.S. Lewis
Dette stedet minner meg om denne scenen, men bildet er nok tatt i Austråttlunden. Riktignok er det litt rart å tenke på at eika på bildet er omtrent 340 år gammel – det har skjedd ganske mye i løpet av den tiden!
Bildet tok jeg med fiskeøyeobjektivet til pappa. Jeg er litt usikker på hva jeg synes om det egentlig, for det er litt plagsomt med det svarte rundt, men samtidig er det ganske stilig at du får med så mye på ett bilde! Jeg tror nok jeg skal bruke det til å ta snøkule-bildet. Det kan bli stilig!
This place reminds me of this scene from Narnia, but the picture is shot in Austråttlunden. It's a little bit funny, though, to know that the tree is about 340 years old!