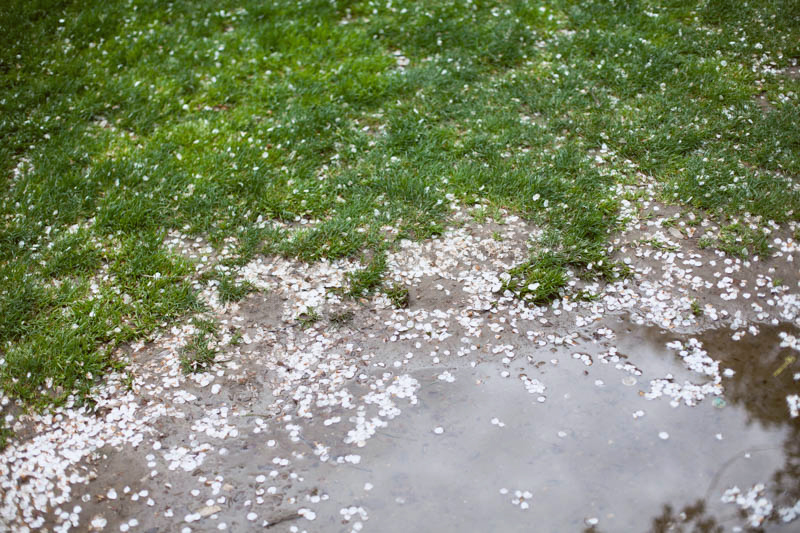 München har bytta ut epleblomstene og seljefrøene som har falt som snø de siste ukene med ekte snø, og jeg har lagt meg under dyna i håp om at når jeg står opp igjen, så er vinteren endelig over. Eller kanskje egentlig mest fordi helga som var har vært så fin, men også ganske slitsom for en kropp som ikke orker så mye for tida. Når jeg har litt overskudd igjen, gleder jeg meg til å vise dere glimt fra den botaniske hagen, det gamle pinakoteket og ekorn i parken. Enn så lenge, bruker jeg energien jeg har til å lære nye ord og komme i gang med å skrive semesteroppgaver. Også har jeg dette å glede meg over:
– Mamma kom med Norvegia i bagasjen = ost + knekkebrød i matpakka! (kan jo ikke bli helt kontinental liksom)
– Fagbiblioteket mitt har grønne planter i vinduskarmene og langs veggene og altfor mange spennende bøker og når det regner hører man det gjennom vinduene
– Joggetur i nye joggesko, som jeg definitivt skal springe forbi noen med
– Blåstripete bomullsgenser som ser ut som sommer!
– Det er Frühlingsfest i München og jeg skal dra med meg noen på radiobiler og som kan holde meg i hånda på toppen av pariserhjulet i helga
Translation:
Instead of snowing petals, it has started snowing for real here in Munich. Spring, won't you come to stay? Well, perhaps it is for the best, as I'll be spending most of my time this week at the university library working on papers. But that's no problem when I have Norwegian cheese to eat for lunch, my library is the cosiest with green plants all over, I've got new running shoes and there's a tivoli in town!